GRAND OPENING – STIIIZY Costa Mesa Sourced By WeCann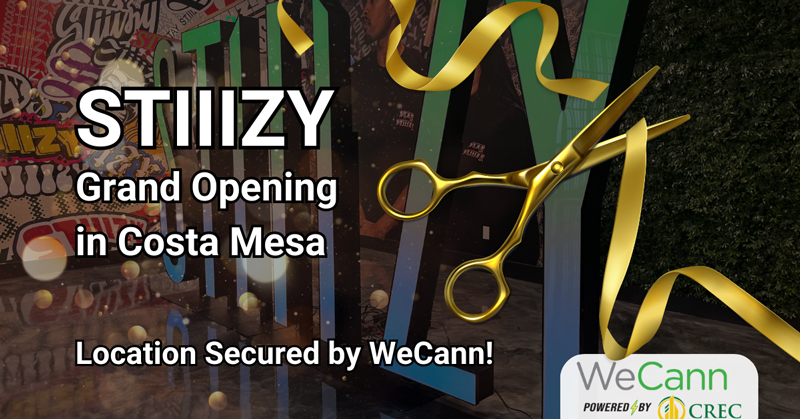 Our team had the honor of attending the grand opening day for STIIIZY in Costa Mesa on May 13, 2023 and it was absolutely packed! Watch our video below to see behind the scenes of the event.
Jason Piazza, Director of Real Estate, and Lani Flores, Associate Agent with WeCann join the ribbon cutting ceremony to watch this new location sourced by WeCann become operational.
Having secured this location at an attractive lease rate for STIIIZY, Lani Flores and Jason Piazza visited the grand opening of this phenomenal new location. They City Council members were also on hand for the ribbon cutting and appeared beyond ecstatic to have such a quality location for an operator they deemed a top priority for the City. Lani Flores was key in sourcing the property and negotiating the deal between STIIIZY and the landlord.
We are excited to announce this new facility was found using WeCann's Real Estate Procurement Services and we also represented the client in acquiring the lease. It was a great day to see the hard work of our team behind the scenes, make a new business a reality, with a line out the door!
This was a challenging project in Costa Mesa, but in the end we were able to find the right solution to create a stylish cannabis retail storefront of this size. Watch our recap video to see a tour of the facility grand opening and walk through with our team members at this fun day of celebration!
STIIIZY COSTA MESA GRAND OPENING VIDEO
About our Cannabis Real Estate Procurement Services
Use our technology and expert team to get ahead of the competition and more confidently secure your real estate.
Improve license application success rate by sourcing correctly zoned properties, in the municipality of your choice, by using our real estate procurement services and accessing custom in-house research processes, zoning, property and regulation maps.
WeCann's real estate procurement services are distinct because no other real estate brokerage company has worked on as many business and real estate entitlement projects as we have, including a robust track record of success.
We proactively create our own proprietary maps with all buffer zones and sensitives uses based on the city's regulations documentation. Often we will produce maps earlier then the cities so our clients can receive access to those properties first. Our properties, maps, and opportunities go through several additional layers of quality control and are subsequently more accurate and reliable.
Let's discuss your next expansion targets!
Request Support Finding & Negotiating Cannabis Real Estate: